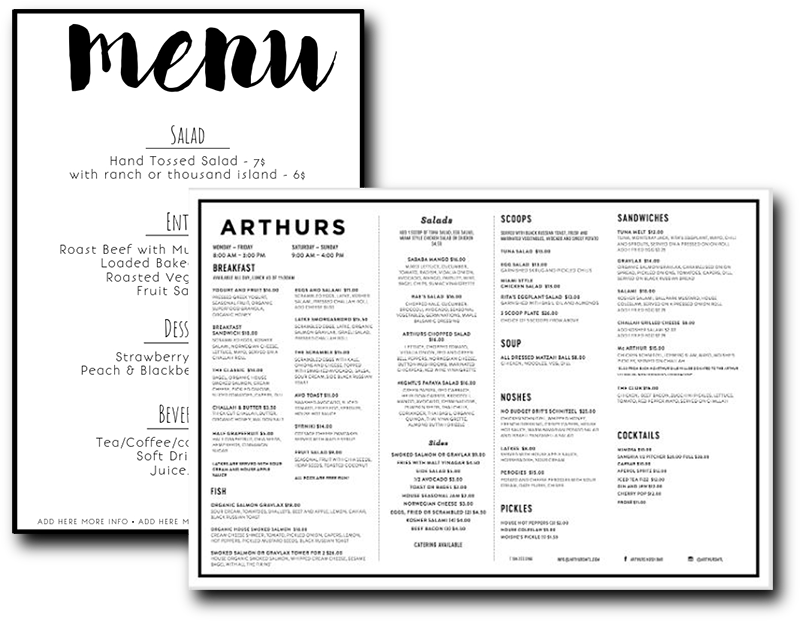 We love our local restaurant community and we're determined to do our part to make sure you can continue to operate in a safe and cost-effective manner. That's why we're offering you your first set of 250 disposable menus free of charge. No purchase required!
We're also eager to help you get set up with all the signage and other printed materials you'll need in this strange new dining environment.
Produced by LITHTEX PRINTING thru our online store: PhoenixMedia.com (direct link to this product below).
To redeem this offer, head on over to our full-service online print store Phoenix Media.  CLICK HERE FOR YOUR 250 FREE MENUS, upload your art, create a free account and apply code MENU2020 at checkout. 
No purchase required.  Nominal shipping not included (but will-call is always free).  If you need more than 250, just increase the quantity of your order - you'll still get the first 250 for free.  One offer per customer, please.
To recap how to redeem this offer: Just use the one-time code MENU2020 for a $40.00 credit to cover the charge for your 250 8.5 x 11 FREE disposable menus at check out. Pick them up at Lithtex Printing headquarters offices at 6770 NE Century Blvd, Hillsboro Oregon, on the north side of Highway 26 and save the shipping cost, or you can optionally have them shipped to you at our normal, affordable rate.
Call (866) 977-0330 or click over to phoenixmedia.com for all your on line business printing. 
Don't know how to create your menu?  That's ok - we have helpful people standing by to help.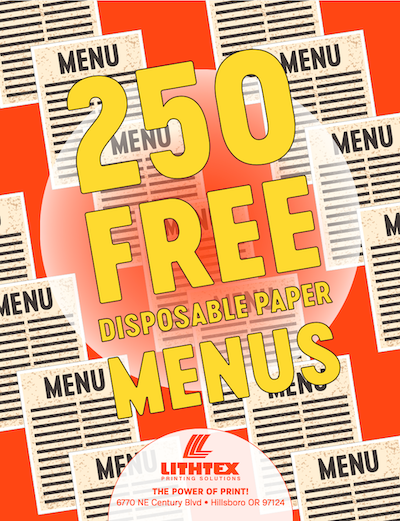 ---
We're always looking at how we might better serve our customers, and given the current environment, we feel it's the right time to expand our online tools.  We're providing these options to offer the best of both worlds: online, self-service, contactless printing services while not compromising on providing the best customer service there is.
Our online options range from full-service printing to seasonal and specialty products to stickers to wide format to book binding to mailing.  Visit any or all of our online stores and see how we can help you.  We'll make the whole process easy and affordable.
Oregon Printers is small-to-medium business focused, offering full-service printing with exceptional expertise in helping local companies excel. COMING JULY 2020.